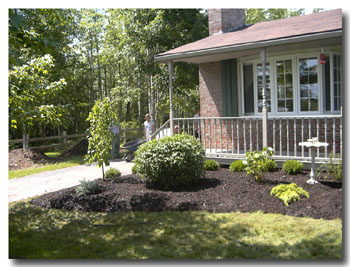 Welcome to Clean Cut Property Service's website!

See some of our project photos...
Want to increase the value of your property? Statistics show a good landscaping job will improve the 'curb appeal' of your house & land, increase your home owner's equity and the resale value of your property as well. Your business location as well will be more attractive to your customers with improvements to your street appearance.
---
We landscaped this pretty house with walkways, mulching, plantings etc.
---
A great review "Wow. From not being able to walk on the soggy swampy stumpy uneven ground to level & beautiful! Bob, Kenny, Kim & crew were absolutely top notch and went above & beyond. Bob made a plan to ensure no more excess water would enter the yard with a French drain. He removed all the stumps and levelled everything. Made a beautiful pad for the play set and took care of moving everything. Each change I wanted was quoted & documented in a professional manner. I am so excited to have a lawn for the kids to play on. Thanks so much." - Roxy
Follow the pictorial progress of an impressive retaining wall and lawn installation, including:

drainage

addition of new flower planter

and flower bed reshaping

---

Watch Clean Cut:

Correcting crooked back steps to yard and adding railings at patio edges for safety.

Leveling and retiling main patio, removing old benches and installing railings.

Removing unstable tiles around house steps, replacing with railed decking, adding planting bed.

Float your mouse over the photo at left to

see the 'before & after' photos of the Hot Tub hut clean-up...
Patio Refresh - Watch these 'before & after' video clips.

Before starting work...

First stage of repair...

Second stage...

and the completed project!
---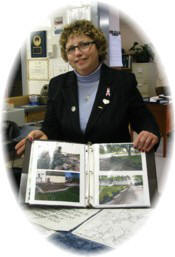 Our goal is to provide professional and affordable property maintenance services to both commercial and residential customers.
Clean Cut specializes in all aspects of lawn and landscape maintenance, servicing various properties from medium size yards to large exclusive estate properties, to commercial market accounts.

Our website is designed to explain our services to prospective customers, as well as a way to communicate with our existing customers. For prospective customers, feel free to browse throughout our website.
As you'll see, we offer a wide selection of property services; we'll keep your property looking its best all season long!